News
Tour of Georgia from Kutaisi
Package tour from Kutaisi
Day 1 - arrival at Kutaisi airport, transfer to hotel, time for rest and diner.
Day 2 - before arrival to Tbilisi we will visit Kutaisi old town, Bagrati Temple, hi&nbsp...
---
Guaranteed departure tour
Guaranteed departure tours in Georgia
Package price from: $545
Duration: 8 Days / 7 Nights
Dates: each week from February 5th till November 27th, 2016 year
Availability: all days are gua&nbsp...
SPECIAL OFFER: guaranteed departure tours

8 days in Georgia from $545

more details


11 days all Georgia: highlands and sea from $875

more details




---
Welcome to the website of Exotour - your reliable guide to Georgia and the Caucasus! We welcome you and invite to join us on a fascinating journey across our country! These pages will provide you with a number of arguments to visit Georgia - one of the most ancient and fascinating countries in the world, a country with a turbulent history, unique culture and beautiful nature. Georgia today is a dynamically developing country with great tourism potential. No stories, photos and video footage can convey flavor and spirit of Georgia - it should be felt and experienced here, on the place.
Travel to Georgia is always a revelation. It is a concentrated dose of interesting journey and a pleasant holiday where myths of the Golden Fleece of Colchis and miracles of Iberia are intertwined with by no means less exciting realities; It is fascinating landscapes along serpentine mountain roads and wisdom of ancient folk tales; It is ancient monuments and delicious cuisine; It is a rich folklore and philosophical mood after a glass of wonderful wine...
Tours of Exotour offer a great opportunity to get acquainted with the rich cultural heritage of the ancient country. It is a swim in the warm sea, a walk through reserved forests and conquering of mountain peaks. It is coming in touch withmyths and legends of the pastthat provide the key to understanding of our present and future alike. It isa prospect to explore the national cuisine, which has no analogues in the world. It is a chance to learn about the ancient traditions of winemaking directly on the place where winemaking was born.
As our guest, you will experience hospitality and warmth that gave Georgians the reputation of the most hospitable people. We will be happy to assist you in finding accommodation in Tbilisi and other Georgian cities, provide you with comfortable transport and experienced guides, fulfill all requests during your travel. Exotour will do its best to make your vacation exotic, diverse, exciting and definitely memorable! With us, you will see the very best of what makes Georgia a unique country so unlike of the rest of the world!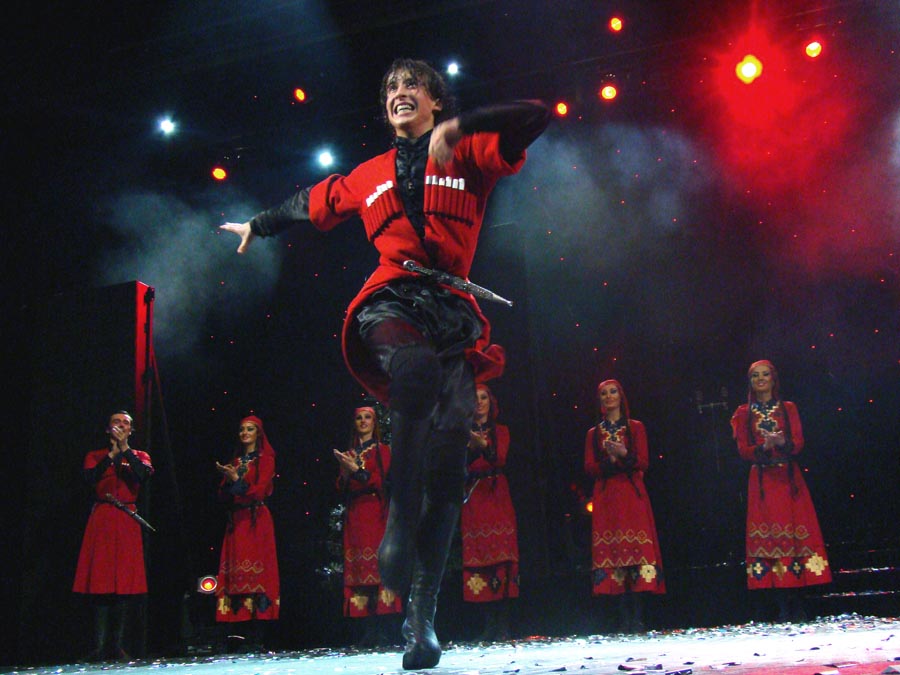 Georgia, country is one of the oldest countries in the world, located at the crossroads of Europe and Asia, in the central and western parts of the South Caucasus and even partially - the North Caucasus. This land is impregnated with ancient legends and significant historical facts that for centuries has been generating great culture and forming a unique lifestyle. There are about a hundred museums and hundreds of ancient monuments in this small country, some of which are included in UNESCO World Heritage List.

The first state formations on the territory of country Georgia -Diauehi an&nbsp...

Read more

In Georgia we believe that a guest is a gift from God. Tour operator Exotour applies this principle to its customers. We meet them as honoured guests and say goodbye as to our friends. Experience gathered since the foundation of the company in 1995 helps us create conditions for a pleasant stay for our guests. All our employees have five to ten years of experience in the tourism sector and periodically undergo trainings.

Tour operator Exotour participated in international tourism fairs: MITT - Moscow, WTM - London, BIT- Milan, CBR - Munich, ITB - Berlin, JATA - Tokyo, UITT - Kiev, TT&nbsp...

Read more